Cast
The Mikado, 2018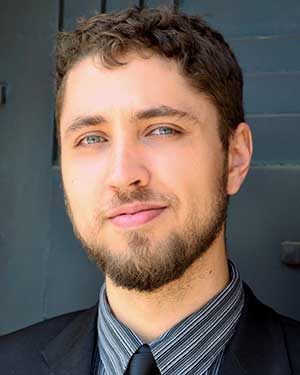 John T.K. Scherch

The Mikado of Japan (Bass)
Praised by Opera News for his "resonant bass outstanding among his peers" and by Pittsburgh in the Round and the Pittsburgh Tribune-Review for his stage presence, John T.K. Scherch has appeared in roles ranging from comic to noble to terrifying, sometimes in the same production.
This is John's Young Vic debut; he was most recently heard as Luka Zinovich in Bel Cantanti Opera Company's production of Rimsky-Korsakov's Sadko, in its first U.S. performance in the original Russian.
He has also appeared with Bel Cantanti as Sarastro in Mozart's Die Zauberflöte as well as Luther and Crespel in Les contes d'Hoffmann. John is a graduate of Peabody Conservatory, where he performed the roles of Frank Maurrant in Kurt Weill's Street Scene, Don Alfonso in Mozart's Così fan tutte, and Giove in Cavalli's La Calisto.
He also has appeared in concert at the Caramoor Music and Arts Festival as part of its Bel Canto Young Artist Program, and as a soloist with Bach in Baltimore and Concert Artists of Baltimore, the latter of which he is a regular chorister with as well.
John is also the evening host on WBJC, 91.5, Maryland's Classical Music Station, taking over for the deservedly retired radio veteran Reed Hessler, whose shoes John has been trying to fill for the past six months or so, hopefully to his listeners' satisfaction. He hosts Listener's Choice every Friday night as well as the Student Composer of the Month podcast. He teaches voice lessons from his home studio and is also an occasional voice actor and narrator.
John is a native of Pittsburgh, Pennsylvania and currently resides in Baltimore. He received his Master's in voice and pedagogy from Peabody, where he studied with Steven Rainbolt, and his Bachelor's in vocal performance from a West Virginia University, where he studied with William Koehler.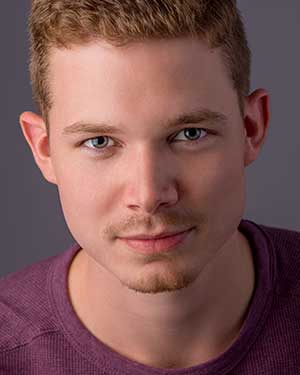 Joshua Hughes

Ko-Ko (Baritone)
Lauded as "a lush, rich baritone" (Theatre Bloom) with "a brilliant vocal range," (DC Metro Theater Arts) Joshua Hughes has performed in opera, operetta, and theatre ranging from Gilbert & Sullivan to Mozart to Shakespeare.
The "rising young singer" (Baltimore Sun) and "excellent baritone" (Theater Jones) approaches a wide variety of roles with a "power and dramatic effect" (Dallas Morning News) that immediately connects the audience to the story at hand.

Currently based in Dallas, TX, Hughes recently made his DFW operatic role debut as Licomede, King of Skyros in a period staging of Francisco Courcelle's Achille in Sciro with Orchestra of New Spain and as Melisso in Handel's Alcina with American Baroque Opera Company.
Hughes has also worked extensively as a soloist with Dallas Bach Society in a number of concerts and productions including Bach's Saint Matthew Passion, Purcell's The Fairy Queen, and Charpentier's Les Arts Florissants.
Other Dallas credits include Jerry Herman's Mame (Junior Babcock) with Lyric Stage, Shakespeare's The Winter's Tale (Antigonus and Florizel) with Barebones Shakespeare Company, A Midsummer Night's Dream (Bottom) with Shakespeare Dallas-Shakespeare on the Go, and Curious George (Man in the Yellow Hat) with Plano Children's Theatre.
Hughes has previously performed with Young Victorian Theatre Company in their productions of HMS Pinafore (Sir Joseph Porter) and Iolanthe (Lord Chancellor) and made his professional operatic debut in Il Barbiere di Siviglia (Ambrogio) with Lyric Opera Baltimore.
Other Maryland credits include Ruddigore (Robin) with Victorian Lyric Opera Company, Cosí fan tutte (Guglielmo) with Bethesda Summer Music Festival, and a number of Peabody Opera productions including Street Scene (Harry Easter), Die Entführung aus dem Serail (Pasha Selim), Hansel and Gretel (Father), Charpentier's La Descente d'Orphèe aux Enfers, and Massenet's Cendrillon.
Hughes has also worked with Opera in the Ozarks in their productions of Die Zauberflöte, L'Enfant et les Sortiléges, La Bohéme, and A Little Night Music and with Bay View Music Festival in Gianni Schicchi and Buoso's Ghost (Marco and Magistrate). Hughes graduated with a Master of Music in Voice Performance and Pedagogy from the Peabody Conservatory of The Johns Hopkins University and received his Bachelor of Music Education from Oklahoma City University.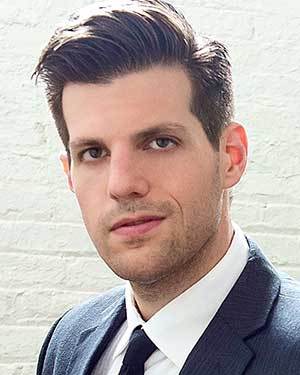 John Kaneklides

Nanki-Poo (Tenor)
Hailed by Opera News as "the very picture of youthful optimism and potential," John Kaneklides is quickly establishing himself as a celebrated tenor of his time. After being named a finalist in the Nico Castel International Master Singer Competition in 2011, Kaneklides was personally championed by the prolific diction coach and opera translator – a mentorship that propelled his career in opera, art song, and oratorio.

This season Kaneklides will create the role of the Guide who mysteriously transforms into Narciso Borgia in the world premiere of Harold Blumenfeld's Borgia Infami with Winter Opera Saint Louis and reprise the title role in Les contes d'Hoffmann with Skylight Music Theatre. Additionally, Kaneklides will return to St. Petersburg Opera as Alfredo in La traviata and return to Young Victorian Theatre Company to sing Nanki-Poo in The Mikado.
On the concert stage he can be heard as the tenor soloist in Orff's Carmina Burana with the Florida Orchestra, under the baton of Michael Francis. Kaneklides will also be concertizing with Lyric Opera Baltimore, Gulfshore Opera and throughout North Carolina.
The 2016-2017 season brought Kaneklides rave reviews for his role debut in the title role of Les contes d'Hoffmann. The Tampa Bay Times said he, "makes for a mesmerizing lead as the poet Hoffmann, equipped with matinee idol looks and a electric sound that continues to surprise." Kaneklides also starred as Villiers, The Duke of Buckingham in the highly anticipated New York premier of Carlisle Floyd's most recent opera, The Prince of Players, with the Little Opera Theatre of New York.
He reprised the role of Rodolfo in La Bohème with the Arts Festival Boca and Mid-Ohio Opera, where WOSU Public Media raved; "John Kaneklides fell in love convincingly as Rodolfo, approached the top notes in Che gelida manina with no fear and proved his fine musicianship…" Additionally, Kaneklides was a featured soloist in several concerts across the USA, including the Eve Queler and Friends concert series with the Opera Orchestra of New York and in North Carolina with Opera Experience Southeast.
Past seasons have brought Kaneklides notable acclaim for his portrayals of Alfredo in La traviata, Nemorino in L'elisire d'amore, Edgardo in Lucia di Lammermoor, Rodolfo in La bohème, Jeník in The Bartered Bride, Fenton in The Merry Wives of Windsor, Cassio in Otello, Pong in Turandot, Rinuccio in Gianni Schicchi, Laurie in Little Women, and Micah in an off-Broadway production of Carlisle Floyd's Slow Dusk.
A decorated award-winner amongst several prestigious vocal competitions, Kaneklides holds a Raphael Bundage Young Artist Award and the Orpheus National Competition's Bel Canto Prize. He also garnered Second Prize from the Opera Guild of Charlotte Competition and received honors from the 2013 International Liederkranz Foundation Competition, the Metropolitan Opera National Council Auditions, and the Nico Castel International Master Singer Competition.
Kaneklides has sung around the United States with some of the nation's most recognized programs. As a young artist, he has spent summers singing for Bel canto at Caramoor in Katonah, New York and Opera North in Lebanon, New Hampshire. Other professional engagements have taken him to St. Petersburg Opera in Florida, Opera Carolina in North Carolina, and Carnegie Hall's Weill Hall in New York City.
Having made his radio debut in 2012 in The North Carolina Baroque Orchestra's recording of Handel's Messiah as the tenor soloist, Kaneklides is an avid oratorio singer. He has performed as the tenor soloist in works such as Mendelssohn's Elijah, Dubois' The Seven Last Words of Christ, and Stainer's The Crucifixion. Kaneklides is a proud native of North Carolina and currently resides in New York City.
He holds undergraduate and graduate degrees in Vocal Performance from Winthrop University, as well as a bachelors in finance. Kaneklides is a student of Bill Schumann.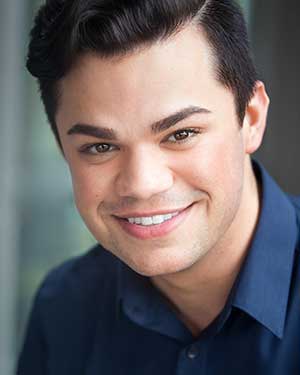 Christopher Fotis

Pish-Tush (Baritone)
Christopher Fotis is returning for his fifth season with Young Victorian Theatre Company. A native of Maryland, he is pleased to be returning to this Baltimore stage.
He holds a Bachelor of Music in Vocal Performance from Towson University, where he studied with mezzo-soprano Leneida Crawford. He was the winner of the Sidney Lieberman Music Competition and a finalist in the Henry Sanborn Scholarship Competition this past year. Christopher will be continuing his musical studies at NYU in the Fall.
His recent roles include: Figaro, Le nozze di Figaro (Towson University, 2018); Dandini, The Billy Goats Gruff (Annapolis Opera, 2018); Prince Henry, Sleeping Beauty (Annapolis Opera, 2017); Prince Charming, Cinderella (Annapolis Opera, 2016); and Anthony, Sweeney Todd (Towson University, 2015).
He was a loyal performer with "Opera in a Can" since 2014; this group is Towson University's opera outreach program for children in affiliation with Annapolis Opera, under the gracious direction of Phillip Collister and Courtney Kalbacker.
Christopher is a multi-faceted performer who has worked in a variety of musical genres and venues in the area and is greatly looking forward to this year's production of The Mikado!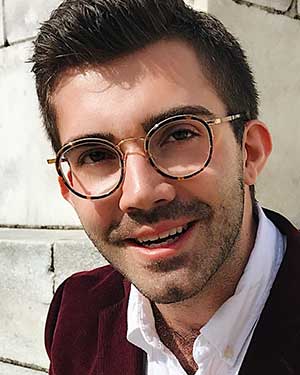 Christopher J. Hartung

Pooh-Bah (Baritone)
Christopher J. Hartung is currently a student at the Peabody Institute under the tutelage of Dr. Stanley Cornett. Noted for his robust voice, Mr. Hartung is a promising young artist. Mr. Hartung is ecstatic to return to the Young Victorian Theatre Company in his second role debut as Pooh-Bah in The Mikado. He previously portrayed the role of Dick Deadeye in HMS Pinafore.
Most recently, Mr. Hartung was seen with the Peabody Opera Department in their production of L'elisir d'amore in the role of Belcore. Previous roles with the POD include Dr.Bartolo and Figaro in Le Nozze di Figaro and L'Aubergiste in Cherubin.
Prior to attending Peabody, Mr. Hartung attended Temple University. While there, he had the opportunities to partake in the Boyer Opera Theatre's productions of La finta Giardiniera and The Merry Widow. Outside of Temple, he was honored to be in the production of Leonard Bernstein's MASS with Yannik Nézet-Séguin and the Philadelphia Orchestra.
Mr. Hartung is looking forward to once again taking part in a production of the MASS with the Peabody Institute this fall as a Street Singer/Blues Singer under the direction of Marin Alsop. He is also a regular young artist with the Berk's Opera Company where he most recently sang the role of Lodovico in Verdi's Otello.
Mr. Hartung has also sung the Bass solos for the Brahms Requiem and Handel's Messiah over the past year, as well with engagements with the Baltimore Concert Opera. Mr. Hartung is beyond grateful for the blessings God has sent his way.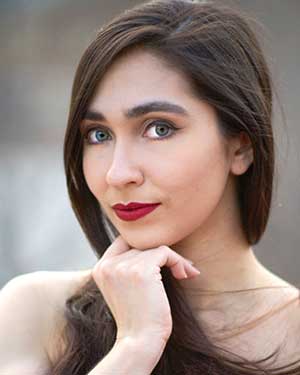 Alissa Roca

Yum-Yum (Soprano)
Alissa Roca has been praised for her ethereal coloratura and clear, powerful, expressive voice. She is particularly known for her work in contemporary music, and frequently works with composers including Dan Welcher, Jesper Koch, Michael Daugherty, and Jason Mulligan.
She has premiered over eighteen pieces including a full length concert drama and set of songs of her own texts. Ms. Roca made her professional debut with Opera Naples where she performed lead roles in six Gilbert & Sullivan operettas. She has also performed Adina in L'Elisir d'Amore, The Queen of the Night in The Magic Flute, and the title roles in Daugherty's Jackie O and Floyd's Susannah.
She has worked as a soloist with the Dallas Symphony, the Meadows Symphony, the Miami Bach Society, SYZYGY Contemporary Music Ensemble and the University of Texas New Music Ensemble, as well as produced and performed numerous solo recitals.
Ms. Roca recently completed a Performer's Diploma at Southern Methodist University, where she earned her M.M. in 2016. This season's highlights include Morgana in Handel's Alcina with Meadows Opera Theatre, Yum-Yum in The Mikado with the Young Victorian Theatre Company, a Featured Artist in the Opera in Bloom festival with Opera Fayetteville and Manuelita in The Dallas Opera's touring production of Offenbach's Pépito.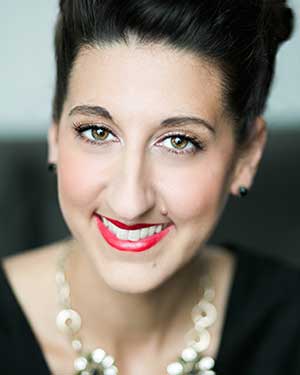 Keely Bosworth Borland

Peep-Bo (Soprano)
Praised for her "magnificent, expressive soprano sound" and "requisite emotion, physically as well as vocally" (ShowBizRadio), Keely Bosworth Borland is quickly establishing herself as a dynamic lyric coloratura soprano.
Ms. Borland has had an exciting 2017/2018 season filled with concert debuts. In the Fall of 2017 she performed as Soprano Soloist in Vivaldi's Gloria with the Westmoreland Choral Society, Soprano Soloist (Gabriel/Eve) in Haydn's Die Schöpfung at Schlesinger Concert Hall with Choralis, as well as made a thrilling return to her hometown of Pittsburgh, PA as Soprano Soloist in Handel's Messiah for both Maria Caruso's ballet "The Messiah" at the Byham Theater and St. Vincent College. Other recent performances have included Constance/The Sorcerer with BaltiQWERT and concerts at the 2018 Shenandoah Valley Bach Festival.
Looking to the 2018/2019 season, Ms. Borland is excited to make her solo debut with the Baltimore Choral Arts Society in David Lang's The Little Match Girl Passion and travel to Sofia, Bulgaria to record with NAXOS and the Sofia Philharmonic J. Strauss' operetta Blindekuh.

Highlights from the 2016/2017 season included Ms. Borland's company and role debut as Rapunzel (Baker's Wife cover) in Sondheim's Into the Woods with St. Petersburg Opera, Bella Giretti in Franz Lehar's Paganini with Philadelphia Concert Operetta Theater, and a return to Fargo-Moorhead Opera as a mainstage artist performing the role of First Lady in The Magic Flute.
Other notable concert repertoire includes Rutter's Requiem, Faure's Requiem, and David Lang's Little Match Girl Passion. Favorite past roles include Gretel/Hansel and Gretel, Serpina/La serva padrona, Babarina/Le nozze di Figaro, and Flora/The Turn of the Screw. As a 2014 Gate City Bank Young Artist at Fargo-Moorhead Opera, she covered the roles of Elena/Buried Alive by Jeff Myers and Victoria/Embedded by Patrick Soluri – two world premiere operas co-commissioned by Fargo-Moorhead Opera, Fort Worth Opera, and the American Lyric Theatre. She has been an Emerging Artist at St. Petersburg Opera, Apprentice Artist at Charlottesville Opera, and a Professional Artist at SongFest.
Ms. Borland has been recognized by the NOA Carolyn Bailey and Dominick Argento Vocal Competition, Pasadena Opera Guild Vocal Competition, Jensen Foundation Vocal Competition, Orpheus Vocal Competition, The Schuyler Foundation for Career Bridges Grant Awards, Lois Alba Aria Competition, and Partners for the Arts Vocal Competition.
She completed her M.M. at the University of Southern California Thornton School of Music and her B.M./B.A. from Lawrence University/Conservatory of Music.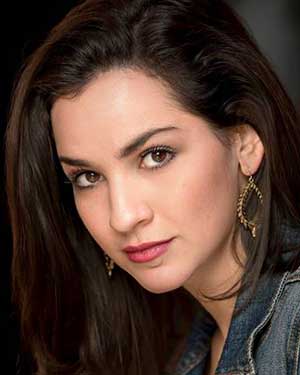 Natanya Sheva Washer

Pitti-Sing (Soprano)
"At the sound of her voice the audience is immediately charmed" (BmoreArt 2014). The international soprano, Natanya Sheva Washer, is proud to be making her Young Victorian Opera Company debut!
Mostly performing in Texas and Maryland, she has appeared with CenterStage, Baltimore Annex Theater, Cohesion Theater, Peabody Opera Theater, and The El Paso Opera Company in such roles as Pamina in Mozart's The Magic Flute, Elsie Whinthrop in Paul Crabtree's World Premiere of The Ghost Train, Katerina Cavalieri in Shaffer's Amadeus, Poppea in Monteverdi's L'incoronazione di Poppea, and Rose in Delibes' Lakme.
February 2015, Natanya performed the role of Maria Bertram in the US premiere of Jonathan Dove's opera, Mansfield Park, at Baltimore's Theater Project. And in February 2016, she performed the role of Elsie Whinthrop in the World premiere of Paul Crabtree's opera, The Ghost Train, at the B&O Railroad Museum.
As well as being a soloist for Bach in Baltimore in the Verdi Requiem and other recital series, Natanya is currently the soprano soloist at Brown Memorial Presbyterian where she has premiered choral works as the featured soloist with the Tiffany Concert Series. With the Tiffany series, her solo voice has been recorded and archived for posterity by the Maryland Historical Society as part of the official tribute to J. Spenser Hammond.
She has also performed as soprano soloist for Poulenc's Gloria, Handel's Judas Maccabaeus, Handel's Messiah, Mozart's Solemn Vespers, Pergolesi's Magnificat, Honeggar's King David, Haydn's Creation, and the vocal montage of the Defiant Requiem by Verdi.
Apart from singing at the Vatican in 2010, she recently made her debut as an international soloist in October 2013 singing with "Britain's Got Talent" winner, Paul Potts, and the Juarez Symphony Orchestra for the 40th Anniversary celebration of Universidad Autónoma de Cuidad Juarez.
New to experimental theater, Natanya originated and performed the award-winning role of the "grotesquely beautiful" Virginia Poe, Edgar Allan Poe's wife, in the premiere cast of The Mesmeric Revelations of Edgar Allan Poe Spring 2015 and reprised the role in Fall 2015 with Submersive Productions.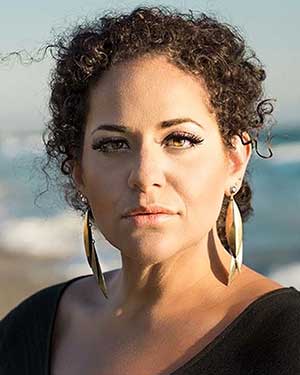 Jenni Bank

Katisha (Mezzo-soprano)
Praised as "lush" by The Wall Street Journal, mezzo-soprano Jenni Bank's voice has a "deep, dark, penetrating tone…that can extract Verdian richness" (The Baltimore Sun).
Ms. Bank was born in Johannesburg, South Africa and grew up in Binghamton, New York knowing from a young age that she wanted to be a singer. Following early studies in voice, she attended The Peabody Conservatory and participated in prestigious Young Artist programs at Seattle Opera, Opera Theatre of Saint Louis, Des Moines Metro Opera, Opera New Jersey, and the world-renowned Filene Young Artist Program at Wolf Trap Opera.
In 2017 Ms. Bank returned to Seattle Opera to make her main-stage debut performing Third Lady in Mozart's Die Zauberflöte. Last season also included her debut with Knoxville Opera as Ruth in Gilbert & Sullivan's Pirates of Penzance, a return to the Young Victorian Theatre Company of Baltimore as Little Buttercup in HMS Pinafore, Emilia in Rossini's Otello with the Bard Summer Music Festival, and a Third Lady cover with The Chicago Lyric Opera.
This season Ms. Bank debuted with Hawaii Opera Theatre as the Marquise in La fille du régiment, sang La Zia Principessa in Puccini's Suor Angelica in Columbus, and returns to both The Florentine Opera to perform Third Lady in The Magic Flute and Baltimore Concert Opera to reprise Mrs. Lovett in Sweeney Todd. She will be making her Carnegie Hall debut with Mid-
America Productions singing mezzo solos in Haydn's Lord Nelson Mass and Schubert's Mass in C.
Known for her prowess in contemporary opera, Ms. Bank will be making her Lincoln Center and New York City Opera debut American Premier of Brokeback Mountain at Jazz at Lincoln Center. Ms. Bank performed the role of The Duchess in The American Premier of Unsuk Chin's Alice in Wonderland with Opera Theatre of Saint Louis for which Opera News called her performance "a standout", proclaiming she possessed a "luscious, dramatic voice and plenty of stage humor."
She made her European Debut singing Chin's Scenes From Alice in Wonderland with the Royal Stockholm Philharmonic and has performed this work many times, including with the Bergen Filharmoniske Orkester in Bergen, The Oslo Opera House in Norway, The Seoul Philharmonic at Lotte Concert Hall in South Korea, the Los Angeles Philharmonic at Disney Hall, and at the Barbican Centre in London with the BBC Symphony Orchestra.
Ms. Bank performed the role of Samira in Corigliano's The Ghosts of Versailles and created the role of Firdhaus Noman in the World Premiere adaptation of Salmon Rushdie's novel Shalimar the Clown, composed by Jack Perla with a libretto by Rajiv Joseph, at Opera Theatre Saint Louis. She will be featured on the much-anticipated release of the original cast recording.
Ms. Bank's recent performances include Mary in Die Fliegende Holländer and Marcellina in Le nozze di Figaro with Florentine Opera Company, The Old Lady in Candide and Mrs. Peachum in Kurt Weill's The Threepenny Opera with Amarillo Opera, and Golde in Fiddler on the Roof with Ash Lawn Opera.
Lauded for her interpretation of Verdi's music, Ms. Bank was recently the mezzo soloist in Verdi's Requiem with Bach in Baltimore and The Morgan State University Choir and has also performed Azucena in Verdi's Il Trovatore with Opera in the Heights for which the Houston Chronicle said, "Bank is her own force of nature and achingly conveyed her obsessed gypsy heart through masterful command of her stupendous voice, praised her for her performance. Thrilling to behold, it's like hearing the waves of the sea".
She returned to the company to sing The Witch in Hänsel und Gretel to further rave reviews. Other performance repertoire includes Dame Quickly in Falstaff, Dryad in Ariadne auf Naxos, Frugola in Il Tabarro, Zita in Gianni Schicchi, Martha in Faust, Giulietta and La voix de la mere in Les Contess d'Hoffmann, Miss Todd in The Old Maid and the Thief, Petra in A Little Night Music, Fairy Queen in Iolanthe, Katisha in The Mikado, Filipyevna in Eugene Onegin, Argento's orchestrated Casa Guidi song cycle, and mezzo solos in the Verdi Requiem, Mozart Requiem, Bruckner Te Deum, Szymanowski Stabat Mater, and Beethoven's 9th Symphony.
Ms. Bank has been featured numerous times on public television and radio as an up -and-coming artist. She recently returned to both her hometown to sing the role of Mrs. Lovett in Sondheim's Sweeney Todd with Tri-Cities Opera and to her country of birth to sing a recital in Cape Town.
Ms. Bank is the winner of a prestigious Sullivan Foundation Award, a finalist in the Fritz and Lavinia Jensen Competition, winner of The Harold Haugh Competition, 2nd place winner in the Shreveport Opera Singer of the Year Competition, a semi-finalist in the Competizione dell'Opera in Germany, and was semi-finalist in the Metropolitan Opera National Council Auditions. Active on social media, you can find her at @jbmezzo