Iolanthe
2016
---
Overview
Iolanthe was the show that launched Young Vic in 1971 as the Gilman Summer Theatre. In the subsequent 44 years, it was performed six more times, including in 2010 for our 40th anniversary.
Of particular note was the Young Vic debut of Joshua Hughes as The Lord Chancellor. His second act performance of "The Nightmare Song" (Love, Unrequited, Robs Me of My Rest) was described as nothing short of a tour de force.
---
Show Synopsis
Prologue
Twenty-five years previous to the action of the opera, Iolanthe, a fairy, had committed the capital crime of marrying a mortal. The Queen of the Fairies had commuted the death sentence to banishment for life, on condition that Iolanthe leave her husband without explanation and never see him again.
Her son, Strephon, has grown up as a half fairy, half mortal. Strephon loves Phyllis, a Ward in Chancery under the care of her guardian, the Lord Chancellor. She returns his love, and knows nothing of his mixed origin.
Act I
At the beginning of the opera, the Queen is prevailed upon by other Fairies to recall Iolanthe from her exile in a frog bog. Strephon joins the glad reunion and announces his intention of marrying Phyllis in spite of the Lord Chancellor, who refuses permission.
Meanwhile the entire House of Lords is enamored of Phyllis. They appeal in a body to ask the Lord Chancellor to give her to whichever Peer she may select. The Lord Chancellor is also suffering the pangs of love, but feels he has no legal right to assign Phyllis to himself.
Phyllis declines to marry a Peer; Strephon pleads his cause to the Lord Chancellor again, but in vain. Iolanthe enters and holds a tender conversation with her son. but since she, like all Fairies, looks like a girl of seventeen, Phyllis and the Peers misinterpret the situation; they ridicule Strephon's claim that Iolanthe is his mother. Phyllis declares that she will now marry either Lord Mountararat or Lord Tolloller. Strephon summons the Fairies to his aid, and the act ends with the Fairies threatening the Peers, and the Peers defying the Fairies.
Act II
The Fairies take revenge by sending Strephon to Parliament and influencing both Houses to pass any bills he may introduce. His innovations culminate in a bill to throw the Peerage open to competitive examination.
The Peers appeal to the Fairies to desist. The Fairies have fallen in love with the Peers and would like to oblige, but it is too late to stop Strephon. The Queen reproaches her subjects for their feminine weakness. She acknowledges her own weakness for a sentry, Private Willis, but asserts that she has it under control.
Lord Mountararat and Lord Tolloller discover that if either loses Phyllis to the other, family tradition requires that they fight unto death; both therefore renounce Phyllis in the name of friendship. The Lord Chancellor, after considerable struggle, pleads his own cause before himself and convinces himself that the law will allow him to marry Phyllis.
Meanwhile, Strephon makes Phyllis understand that his mother is indeed a fairy. They reconcile and persuade Iolanthe to petition the Lord Chancellor on their union. While the Lord Chancellor is moved by her appeal, which evokes the memory of his late wife, he declares that he himself will marry Phyllis.
Desperate, Iolanthe reveals herself to her mortal husband—and thus again incurs the death penalty. The other Fairies, however, have expressed husbandly designs, also incurring a death sentence. The Queen blanches at the prospect of slaughtering them all, so the Lord Chancellor suggests a legal expedient which saves the situation.
---
Cast Bios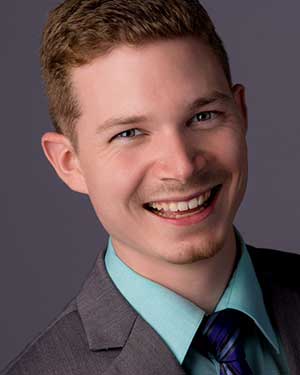 Joshua Hughes

Lord Chancellor
Lauded as "a lush, rich baritone" (TheatreBloom ) with "a brilliant vocal range," (DC MetroTheaterArts ) Joshua Hughes has performed in opera, operetta, and musical theatre ranging from Gilbert and Sullivan to Rossini to Sondheim.
Hughes approaches a wide variety of roles with an inventive and intriguing manner that immediately connects the audience to the story at hand. Hughes most recently appeared in Il Barbiere di Siviglia (Ambrogio) with Lyric Opera Baltimore, Ruddigore (Robin) with Victorian Lyric Opera Company, and Cosi Fan Tutte (Guglielmo) with Bethesda Summer Music Festival.
Peabody Opera credits include Street Scene (Harry Easter), Die Entführung aus dem Serail (Pasha Selim), Hansel and Gretel (Father), Charpentier's La Descente d'Orphée aux Enfers (Apollon & Titye), and Cendrillon (Premier Ministre & Herald).
Other credits include Die Zauberflöte, L'Enfant et les Sortilèges, La Bohème, and A Little Night Music with Opera in the Ozarks, Gianni Schicchi and Buoso's Ghost (Marco and Magistrate) with Bay View Music Festival, and Il Barbiere di Siviglia (Fiorello and Ufficiale) and A Hand of Bridge (David) at Oklahoma City University.
Hughes hails from Smithville, MO and recently received a Master of Music in Voice Performance and Pedagogy from the Peabody Conservatory of Johns Hopkins University where he studied with William Sharp. In 2013, he received his Bachelor of Music Education from Oklahoma City University where he studied with Jeffrey Picón.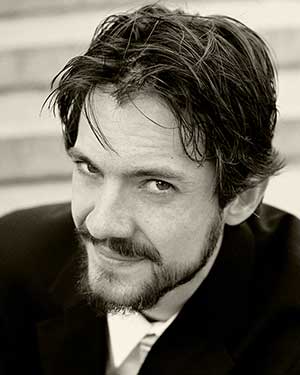 Peter Tomaszewski

Lord Mountararat
Peter Tomaszewski is a veteran of Young Vic, having sung Pooh Bah in the 2012 Mikado, Captain Corcoran in the 2013 HMS Pinafore and most recently the Counsel for the Plaintiff in Trial by Jury.
Peter served as an Apprentice Artist at Santa Fe Opera for the 2014 and 2015 seasons. He made his Santa Fe mainstage debut as the Cappadocian in Salome and covered the roles of Ethan and Owens in the world premier of Cold Mountain by Jennifer Higdon.
With Palm Beach Opera he played Luther and Crespel in Les contes d'Hoffmann, the first Nazarene in Salome, and Doctor Grenvil in La Traviata. There he also workshopped and went on to cover the role of Herman Broder for the world premier of Ben Moore's Enemies: a Love Story.
Opera News magazine praised Peter's work as the physician in Macbeth with Des Moines Metro Opera, where he also covered the title role in Don Pasquale and played Elder Ott in Susanna. Other stage roles include Nick Shadow in The Rake's Progress with The Peabody Conservatory, Gregorio in Roméo et Juliette with Annapolis Opera, Papageno in Die Zauberflöte with Maryland Concert Opera, Guglielmo in Così fan tutte with Baltimore Concert Opera, and Nilakantha in a concert production of Lakmé with Opera Delaware.
Tomaszewski hails from the rural outskirts of Bellingham, Washington. He earned his Bachelor of Music in Vocal Performance from Western Washington University where he won the 2004 Concerto Competition in which he performed Mussorgsky's Songs and Dances of Death with orchestra. He earned both a Masters of Music in Vocal Performance and an Opera Graduate Performance Degree at The Peabody Conservatory, studying under Stanley Cornett and the celebrated English bass-baritone, John Shirley-Quirk.
In addition to his singing career Peter has served two terms in AmeriCorps (National Civilian Community Corps) which included teaching in inner city schools, environmental work with The Nature Conservancy, construction with Habitat for Humanity, and disaster relief with FEMA. In 2006 he rode solo on a 6,000 mile cross-America bicycle tour.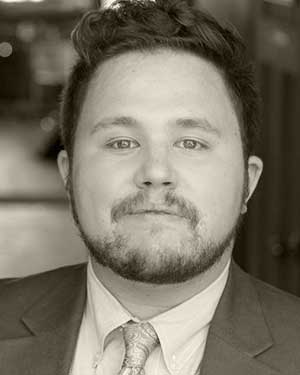 Patrick Kilbride

Lord Tolloller
Praised for his "sweet tone" and "superbly acted" portrayals, American tenor, Patrick Kilbride, is enjoying a flourishing career, particularly sought-after as an interpreter of Monteverdi, Bach, Vivaldi, Handel, Mozart and Britten.
He pursued his undergraduate studies in voice at Northwestern University, and his graduate studies in opera at the University of Maryland Opera Studio. Additionally, he was a fellow for three summers at the Aspen Music Festival and School as a member of the Aspen Opera Theater Center singing roles under the batons of many musical luminaries including Jane Glover, Tomàš Netopil, and Robert Spano. He has also been a Young Artist with the Boston Early Music Festival and Victoria Bach Festival.
Currently residing in Washington, D.C., Mr. Kilbride recently made his professional operatic debut in the United States singing the role of Iro in a new production of Monteverdi's Il Ritorno d'Ulisse in Patria with the Boston Early Music Festival, directed by Gilbert Blin and conducted by Paul O'Dette and Stephen Stubbs. Following his debut in Boston, he studied and performed for two months at the prestigious Tanglewood Music Center as a Vocal Fellow where he collaborated with many celebrated artist-mentors including Mark Morris, Sanford Sylvan and Dawn Upshaw. While there he made his recital debut in Seiji Ozawa Hall and performed in world premieres, including music of Pulitzer Prize winning composer, David Lang.
Other important roles performed and covered include Albert Herring in Albert Herring, Arbace in Idomeneo (Maryland Opera Studio), Gherardo in Gianni Schicchi, Secondo Soldato/Lucano in L'Incoronazione di Poppea, Beadle Bamford in Sweeney Todd, Gomatz in Zaïde, Flute in Midsummer Night's Dream (Aspen Music Festival), Osman in Almira (Boston Early Music Festival), Monostatos in Die Zauberflöte, La Discorde in Les arts florissants, and Don Curzio in Le Nozze di Figaro (Northwestern University). In demand as a concert artist, Mr. Kilbride has performed with the Washington Bach Consort and Chicago's Music of the Baroque.
As a winner of the 24th International Concours de Chant Centre-Lyrique d'Auvergne in Clermont-Ferrand, France, Mr. Kilbride will make his professional operatic debut in Europe singing the role of Damon in a new production of Handel's Acis and Galatea in France throughout 2015 and 2016. Upcoming performances include Damon in Acis and Galatea with Théâtre Municipal Montluçon, Opéra Grand Avignon, Opéra Théâtre de Clermont-Ferrand, Opéra de Rennes and Festival de la Chaise-Dieu as well as soloist appearances with the Washington Bach Consort and the Cathedral Choral Society.
He was a 2007 National Foundation for the Advancement of the Arts YoungARTS finalist and winner in classical voice.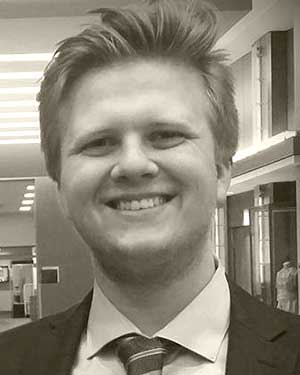 Tate Tiemann

Private Willis
Tate is very excited to perform his debut lead role as Private Willis in Iolanthe. His past experience with Young Vic includes chorus parts in The Gondoliers, a pirate in The Pirates of Penzance, and as a Juryman in Trial By Jury. Tate has also performed the role of a Wickersham Monkey in Charm City Players' production of Seussical the Musical.
Currently, Tate sings with Quorus, an all male small chamber ensemble and is pursuing a degree in vocal music performance from Towson University.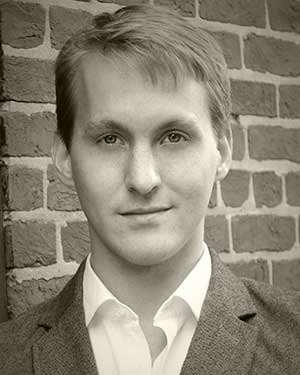 Thomas Hochla

Strephon
Making his Young Vic debut, baritone Thomas Hochla's most recent Baltimore area engagements include Dick McGann in Street Scene (Peabody Opera at the Modell Lyric), Edmund in Mansfield Park (Peabody Chamber Opera, US Premiere), and Joseph in Joseph and the Technicolor Dreamcoat (Oregon Ridge Theatre).
Having preformed as Dream Curly in over 150 performances of Rodger's and Hammerstein's Oklahoma!, Mr. Hochla is at home on operatic, musical theatre, and dance theatre stages and also works extensively in sacred choral music.
Mr. Hochla earned a B.A. in Music from Vassar College studying under counter-tenor Drew Minter and is a recent M.M. graduate of the Peabody Conservatory having studied with William Sharp.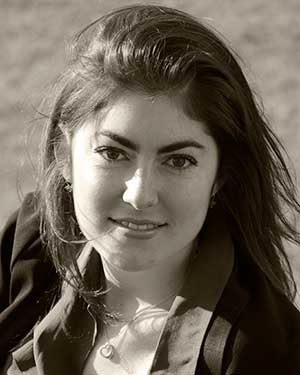 Zoe Band

Queen of the Fairies
Mezzo-soprano Zoe Band's colorful, rich voice coupled with her natural stage presence has allowed her to bring life to many styles of music. Ms Band began her 2015–2016 season as a Tanglewood fellow singing Idamante in scenes of Idomeneo with Dawn Upshaw, followed by a debut at the Baltimore Lyric as Mrs. Jones in Peabody Opera's Street Scene, and Dorabella in Cosi Fan Tutte with the Charleston Symphony. In addition, she performed as the soloist with The Cathedral Choral Society for Mozart's Coronation Mass, Peabody Concert Orchestra for Duruflé's Requiem, and SONAR new music ensemble for Berg's Lyric Suite. She returns to the Baltimore Lyric as a member of the chorus for Roméo et Juliette.
Ms. Band's 2016–2017 season includes the Fairy Queen in Iolanthe with Young Victorian Theatre Company, Brahm's Alto Rhapsody with the Voce Chamber Singers, and a return to the SONAR new music ensemble.
The 2014–2015 season included the alto solos in Vivaldi's Gloria and Charpentier's Messe de Minuit with First and Franklin Congregation. Ms Band was a finalist in the Canadian Opera Company's Ensemble Studio Competition, Vocal Arts DC Young Artist Competition, received second place in the Russell C. Wonderlic Competition, and first place in the local and regional division of NATS.
Ms. Band completed her bachelor and master's degree in 2014 from the Peabody Conservatory where she performed Hermia in A Midsummer Night's Dream, Miss Benson in Lakmé, Ferdinand in Ariel's Tempest, Betty Parris in The Crucible, Anna in The Trio and Zinnie in Dora.
Additional credits include Lucretia in The Rape of Lucretia with HexaCollective, Hansel in Hansel and Gretel with Toronto Summer Opera and Little Patuxtent Opera, and Patricia Hutton in Camelot Requiem with The Figaro Project.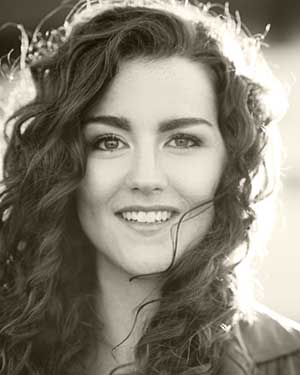 Katherine Sanford

Iolanthe
Katherine Sanford is a versatile mezzo-soprano and native of Annapolis, MD. The 2015–2016 season has been an exciting one for Katherine, beginning with her performance of Dorabella in Cosi Fan Tutte with Nashville Opera, followed by performances as Prince Orlofsky in the company's production of Die Fledermaus.
Katherine performed as an Opera Colorado Young Artist during the 2014–2015 season. During her residency, she made several important role debuts, including Stephano and Hansel in touring productions of Romeo and Juliet and Hansel and Gretel. She performed the roles of Kate Pinkerton in Madama Butterfly, and 2nd Lady in The Magic Flute on Opera Colorado's main stage.
Other opera credits include L'incoronazione di Poppea (Ottavia), Don Giovanni (Donna Elvira), Le Nozze di Figaro (Barbarina), Carmen (Mercédès), Cavalleria Rusticana (Lola), The Rape of Lucretia (Lucretia), and Elektra (Dritte Dame).
Katherine performed as a young artist with Des Moines Metro Opera in 2013. She completed her Masters degree at the University of Michigan, and her undergraduate degree at the University of Maryland.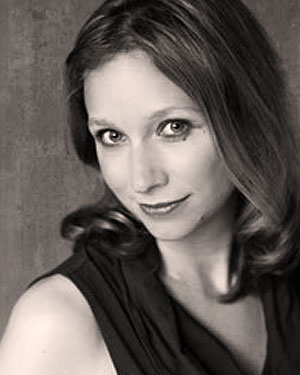 Catrin Davies

Iolanthe
Described as having "…bright vocalism and flawless diction…" by the Baltimore Sun, mezzo soprano Catrin Rowenna Davies is delighted to be returning for her eighth production with Young Victorian Theatre Company.
Equally at home in opera, operetta, and musical theater, she made her role debut with Lyric Opera Baltimore as Berta in Il barbiere di Siviglia in March. Ms. Davies has performed with operatic roles with Baltimore Opera, Lyric Opera of Cleveland, Annapolis Opera, Opera AACC, and Baltimore Concert Opera.
In 2014, Ms. Davies made a role debut as Carmen, and had the great pleasure of coaching with the inimitable Denyce Graves for those performances. Other recent performances include Lola in Cavalleria Rusticana, and the alto soloist in Bach's St. John Passion, Beethoven's 9th Symphony, and Handel's Messiah.
Ms. Davies specializes in Welsh repertoire and three times has won the first prize at the North American Festival of Wales. She has also competed at the National Festival in Wales, winning the mezzo soprano competition in 2012.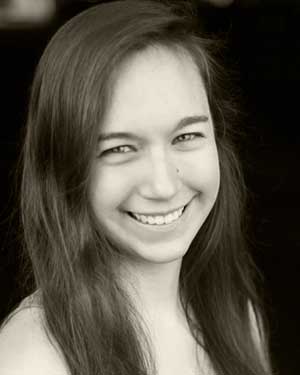 Katie Procell

Celia
Katie Procell (soprano) studied with Kevin McMillan at James Madison University where she recently received her B.M. in vocal performance. The majority of her work has been operatic training in the United States and abroad (Halifax, Nova Scotia and Sulmona, Italy).
In the United States, she has performed and studied roles at James Madison University (Rosina in Il Barbiere di Siviglia, Patience in Patience, Susanna in Le Nozze di Figaro, Mabel in The Pirates of Penzance, Mimi in La Bohème, Valencienne in The Merry Widow ). She has also directed scenes from The Mikado, Giulio Cesare in Egitto, Cinderella, and La Cenerentola with the JMU Opera Guild while serving as its president. She has founded the JMU Gilbert & Sullivan Society and is music directing its inaugural production of Trial by Jury.
Outside her university, she has performed roles and music directed at Luray Opera Theatre (Despina in Cosi Fan Tutte, Phyllis in Iolanthe ).
Abroad she has trained at Halifax Summer Opera Festival studying the role of Cleopatra in Giulio Cesare in Egitto and at the Centre for Opera Studies in Sulmona, Italy studying the roles of Clorinda in La Cenerentola and Satirino in La Calisto. She has attended the Oberlin Baroque Performance Institute. In February, she performed Pierrot Lunaire.
Her oratorio work includes Carmina Burana, Gottes Zeit ist die allerbeste Zeit, and Fauré Requiem. She is incredibly excited to be performing the role of Celia in Young Vic's Iolanthe.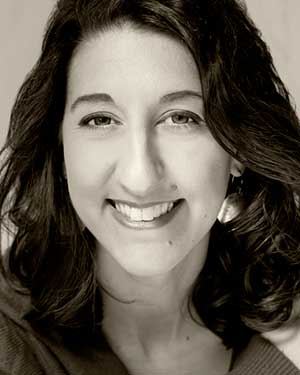 Keely Bosworth Borland

Celia
Praised for her "magnificent, expressive soprano sound and her rubber-faced comic," lyric coloratura soprano Keely Bosworth Borland recently made her company and role debut as Gretel in Opera Louisiane's Hansel and Gretel.
Additional roles include Lucy/The Telephone, Maid Marian/Robin Hood, Flora/The Turn of the Screw, Barbarina/Susanna (cover) in Le nozze di Figaro, Rose Maybud/Ruddigore, Mme. Silberklang/The Impresario, Noémie/Cendrillon, and Mabel in The Pirates of Penzance.
She was a Young Artist at Fargo-Moorhead Opera and Apprentice Artist at Ash Lawn Opera. Ms. Borland was named a Finalist in the 2016 Schuyler Foundation for Career Bridges Grant Awards, Semi-Finalist in the 2016 Partners for the Arts Vocal Competition and 2016 Lois Alba Aria Competition as well as the 2015 Annapolis Opera Vocal Competition.
She completed her M.M. at the University of Southern California Thornton School of Music and her B.M./B.A. from Lawrence University/Conservatory of Music.
Upcoming: Bella Giretti/Paganini with Philadelphia Concert Operetta Theater and First Lady/The Magic Flute with Fargo-Moorhead Opera.
Melodia Rinaldi

Leila
Melodia is excited to perform in her third production with the Young Victorian Theater Company. As a sophomore Music Education student at Towson University, she greatly appreciates the opportunity to audition and perform with such a prestigious company.
She wants to thank Brian Goodman, James Harp, and especially Phillip Collister for believing in her. She hopes you enjoy the performance, and encourages you to come back for more!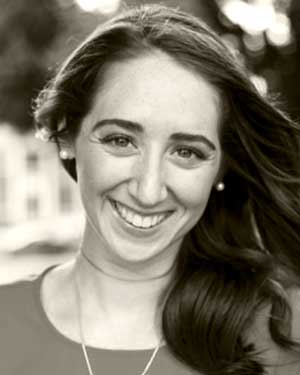 Lauren Anderson

Leila
Mezzo-soprano Lauren Anderson is a second year master student at Peabody Conservatory. She studies in the studio of Denyce Graves. Born and raised in Muskego, Wisconsin, Lauren got her start in musical theatre. Her love of opera started in the first year of her undergraduate degree at The University of Wisconsin Eau Claire. There, she studied under the tutelage of Dr. Mark Mowry.
Her opera credits include Prince Orlofsky Die Fledermaus, Rowan The Little Sweep, Dorothèe Cendrillon, Julia Bertram (cover) in the U.S. Premiere of Mansfield Park. This past season Lauren was seen as Jennie Hildebrand in Street Scene, and Dido and Cherubino in Opera Scenes.
A big proponent of contemporary opera, Lauren recently debuted scenes as The Red Queen in Jason Mulligan's new opera Through the Looking Glass. She participated in Peabody Opera Etude's The Baltimore Plot by Kyle Krause.
In April of 2016 she made her Kennedy Center Debut singing excerpts of "Camille Claudel: Into the Fire" by Jake Heggie as part of the Kennedy Center Conservatory Project. She is excited to appear in her first opera with Young Vic.
Grace Kane

Fleta
Ms. Kane is thrilled to be back with Young Vic! A senior studying voice at Towson University, Ms. Kane has most recently been seen as Gertrude McFuzz in Seussical the Musical! with the Charm City Players, Cinderella in the Annapolis Opera premiere of her co-written original work Cinderella: An Opera for Children, as well as in The Pirates of Penzance (cover for Edith, chorus, and featured dancer) with the Young Vic.
On Towson University stages she has played the roles of Janet Weiss in The Rocky Horror Show, the Egyptian Queen in Solomon and Balkis and Suor Genevieffa in Puccini's Suor Angelica.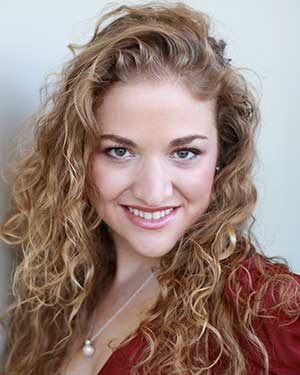 Gabrielle DeMers

Phyllis
Soprano Gabrielle DeMers is thrilled to be returning to Young Vic this summer as Phyllis. Previously, she appeared as Gianetta in The Gondoliers and Josephine in HMS Pinafore.
Gabrielle performs regularly with The Lyric Opera Baltimore where she made her role debut as Kate Pinkerton in Madama Butterfly in 2014 under the baton of Maestro Steven White. In 2015, Gabrielle made her role debuts as Donna Elvira in Don Giovanni with OperaAACC and Mimi in La Boheme with HUB Opera Ensemble.
Gabrielle received her Masters in Opera Performance from the University of Maryland, College Park. As a member of the Maryland Opera Studio, she sang the title role of Sandrina in Mozart's La Finta Giardiniera and Tatyana in Tchaikovsky's Eugene Onegin.
She holds a Bachelor of Music degree from University of Southern California where she sang Betty in the west-coast premiere of Lowell Liebermann and J.D. McClatchy's Miss Lonelyhearts and Nerone in Handel's Agrippina.
Gabrielle has been featured in concerts and recitals around the Baltimore Washington Metropolitan area.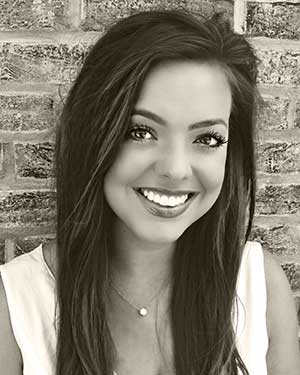 Rebecca Elizabeth Wood

Phyllis
Known for her "lyrical passion" and "silvery tone" soprano Rebecca Elizabeth Wood received her Graduate Performance Diploma and Masters of Music in voice from The Peabody Conservatory of Johns Hopkins University. She studied under the tutelage of Phyllis Bryn-Julson, head of the voice department and Stanley Cornett.
In November 2015 she sang the principal role of Rose in Kurt Weill's Street Scene at the Modell Lyric Opera House with the Peabody Opera and in the Spring of 2016 she was the Assistant Director of Peabody's production of Cosi Fan Tutte. She was also awarded the 2nd place winner of the biennial Sylvia L. Green voice concerto competition in March 2016 held at The Peabody Conservatory.
During her time at the Peabody Conservatory she performed the lead role of Cendrillon in Peabody Opera's MainStage production of Massenet's Cendrillon in 2014. She also performed the roles of Amore and Damigella in Monteverdi's L'incoronazione di Poppea in 2013 and covered the role of Helena in Britten's A Midsummer Night's Dream in 2014.
She received her Bachelor of Music from the University of South Carolina on a choral music scholarship. Her most renowned accomplishment was playing the role of Zerlina in Mozart's Don Giovanni with Opera at USC during her senior year.
She has also participated in many summer programs including Crittenden Opera Studio in Bethesda Maryland, Music Theater Bavaria in Germany, and Manhattan School of Music Summer Voice Festival performing the role of Amore in Monteverdi' s L'incoronazione di Poppea. Most recently she attended Music Academy International in Italy performing the role of Lauretta in Gianni Schicchi in Fiera di Primiero, Italy summer of 2015.
She is currently on call for the Boston Lyric Opera House chorus, performed with Center Stage (the state theater of Maryland) in May 2016 and the 1st place winner of the Chamber Orchestra of Southern Maryland in Concert Young Artist Competition.